Pirate Nation, The annual Coat and Blanket Drive, sponsored by Chilton ISD Athletics has begun in the Chilton ISD. Please donate new or gently worn coats and/or blankets to the Chilton ISD. We want to ensure that the needy, elderly, and the sick and shut-in can stay warm during the winter months. Your help, kindness, and donations will be appreciated greatly. Donations can be dropped at the Chilton High School. For additional questions or concerns contact Mrs. Niecee Smith at 254-546-1224.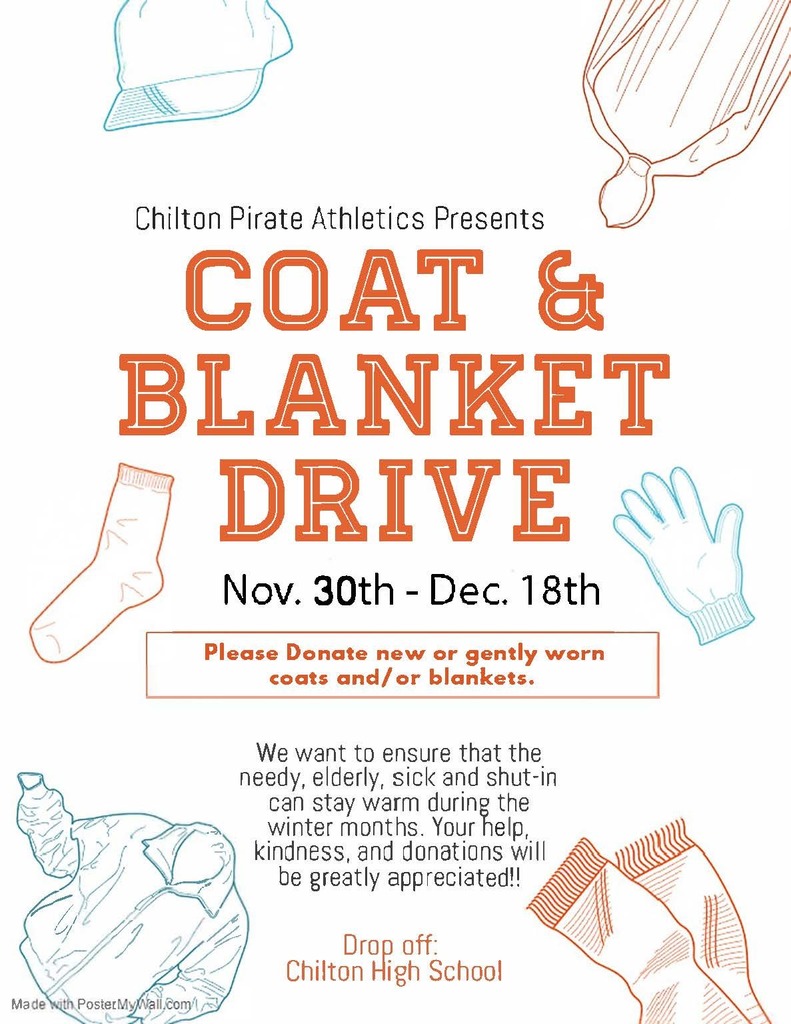 Congratulations student-athletes and coaches on an awesome season. You all have demonstrated the #RefuseToSink mindset that characterizes Pirate Nation. No losses only lessons. #BiDistrictChamps #AreaChamps


Regional Semi-Final Game: Chilton Pirates vs Tenaha Tigers Saturday, November 28, 2020 Athens ISD Football Stadium 6:00 p.m. #RefuseToSink

Congratulations Pirates on your 56 - 12 victory over the Deweyville Pirates. Round 3... here we come! #AreaChamps #RefuseToSink

Game Update: At halftime your Chilton Pirates are up 37 - 12 over the Deweyville Pirates. #RefuseToSink

The previous link shared was incorrect. Use texanlive.com

Pirate Nation, My hope is that each of you enjoys this Thanksgiving Holiday by embracing loved ones and truly reflecting on the many blessings we experience. Given the challenges that many of us have faced over the past year, it is essential to identify and appreciate the growing pains that have come with this current reality. If nothing else, this time has allowed us to genuinely appreciate the interactions, smiles, and traditions that many of us take for granted. As you begin this season, take a moment to reflect with those who mean the most. More importantly, I want to express my appreciation to each stakeholder in the Chilton ISD for helping us to make this year as successful as it has been. Take a moment to watch the brief video clip.
https://www.youtube.com/watch?v=sIK_DocajFs
#AttitudeOfGratitude #MindsetMatters

Ticketing Information for Varsity Football Playoff Game: Your Area Football Game will be played at our Tomball ISD Stadium located at
https://goo.gl/maps/2hkA5SvwFu2NcpdGA
. The gates will open at 5:00 pm, 60 minutes prior to kickoff. I've attached a parking lot map to show you where to park and enter. All of our tickets are sold online. Your ticket sales are on sale and available for purchase immediately, and can be found here:
https://www.tomballisd.net/apps/pages/administrative-services/athletics/tickets
Adult tickets are $5.00 and Student/Child tickets are $3.00. We will NOT accept cash for tickets at the gate. Everyone entering the stadium will need to purchase an online ticket, and show the QR code at the gate to enter. We are NOT honoring UIL passes, coach passes or employee passes of any kind at the gate. All senior citizens and small children will need to purchase a ticket. There will be a processing fee for each ticket purchased. All ticket sales and processing fees are final and are non-refundable. At this time, due to Covid-19 restrictions, we have 1432 seats available on the visitor side.

Good Morning Pirate Nation, Tickets for the Girls' Junior High game versus Moody can be purchased in the Chilton ISD office. Thanks for your flexibility during this time.

Deweyville vs Chilton @ Tomball Tx Saturday 11/21/20 6pm kickoff

Congratulations to our varsity football student-athletes and coaches for a dominating performance to become bi-district champions. Your Pirates defeated the Detroit Eagles 52-14. The Pirates will advance to the area round and face Deweyville. Date and Time are TBD.

Pirate Nation, There are additional playoff shirts available on a first come; first served basis. If you would like a shirt, please contact Mrs. Hubbard at
lhubbard@chiltonisd.org
. #RefuseToSink

Tickets for tonight's football playoff game will be $5 and can be purchased at the gate in Mabank ISD. We anticipate the game will be streamed on the Chilton ISD Facebook page. #RefuseToSink

Good Evening. The Girls' Varsity Basketball game versus Burton has been cancelled. Let's keep Burton ISD in our thoughts and prayers.


Good Morning Pirate Nation. Over the next several weeks, our students and staff members will cover the Attitude of Gratitude and Live to Give Mindsets. As we cover these mindsets, we want to encourage all of our community to help us with our Chilton ISD Food Drive. The food drive goes from November 9 - November 19. All proceeds will support the Chilton Community food bank that serves our local community. As many of us know, this was one of Mrs. Hendershot's favorite events to coordinate. Let's honor her legacy in a big way and contribute to our food drive. Please see the flyer for additional details.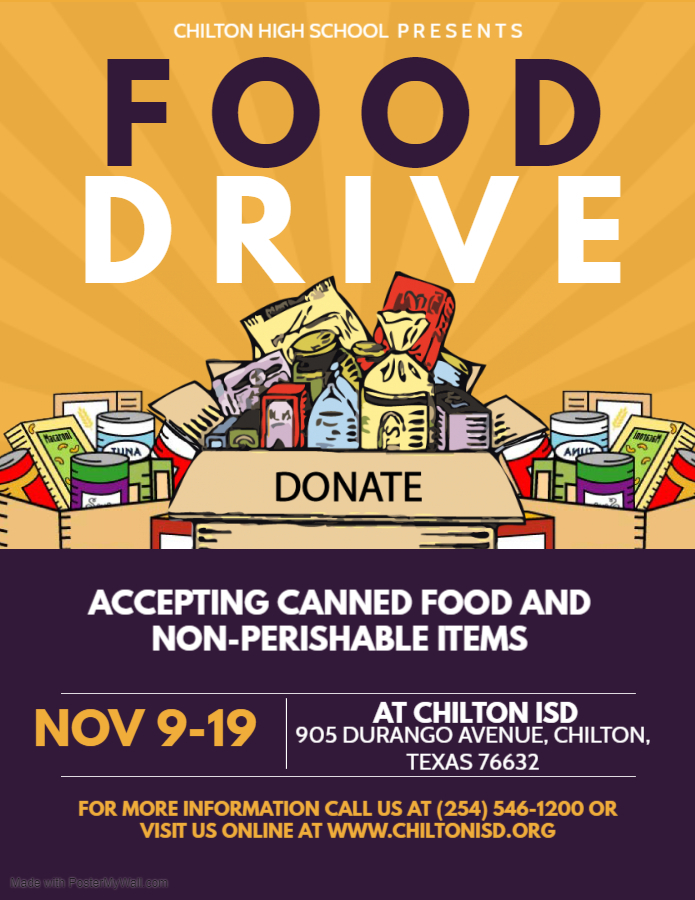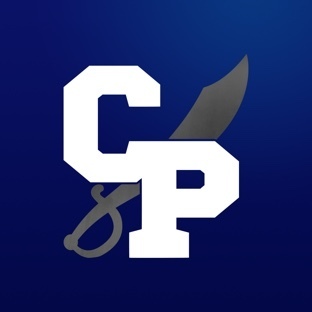 First Round Playoff Contest: Chilton vs Detroit @ Mabank ISD Stadium Thursday, November 12, 2020 @ 7:00 p.m.

With an impressive performance last night, our varsity football team has earned their third consecutive playoff berth. The Pirates defeated the Wortham Bulldogs 44-14. Congratulations to our student-athletes and our coaches for this great accomplishment. Playoff shirt orders will be taken through Monday. Please contact Mrs. Hubbard at
lhubbard@chiltonisd.org
. #RefuseToSink