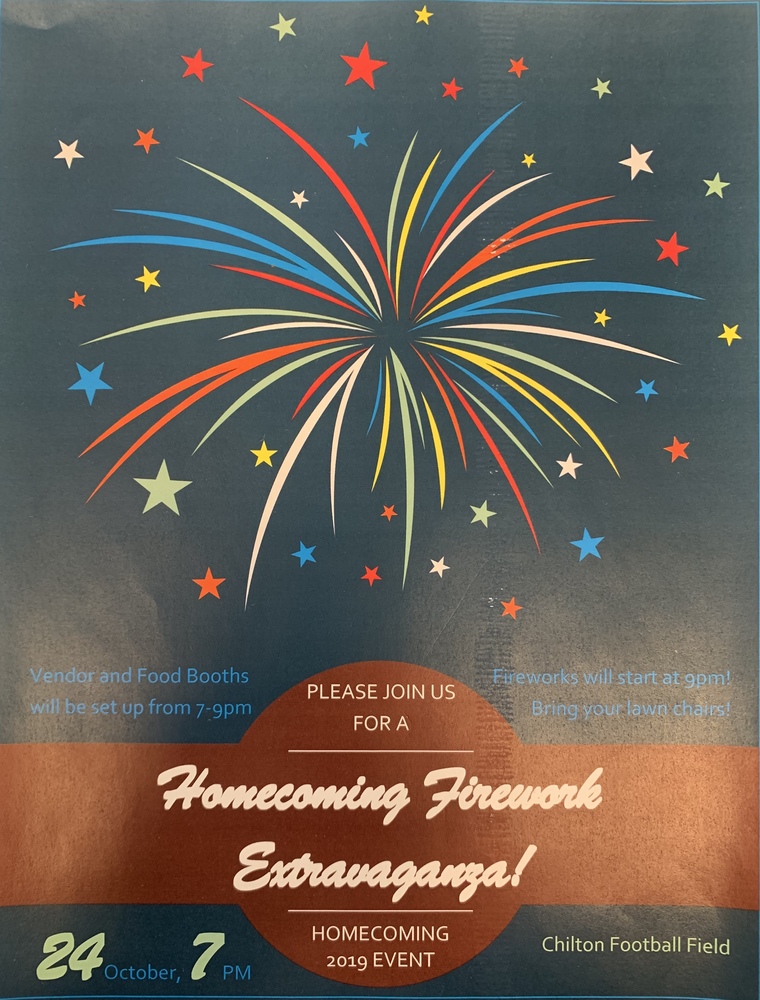 Homecoming Extravaganza
Brandon Hubbard
Thursday, September 19, 2019
Pirate Nation,
Homecoming 2019 is quickly approaching. We want to make this one of the most memorable for our students, staff, and community. Our homecoming festivities will begin with the Homecoming Fireworks Extravaganza on Thursday, October 24, 2019. The extravaganza will begin with vendor, food booths, and fun at the Chilton ISD Athletic complex from 7:00 p.m. to 9:00 p.m. Any business, organization, or individual desiring to have a vendor booth should contact Mrs. Lahoma Taylor at 254-546-1227. The price for a booth at this extravaganza is only $30. There will also be music from Chilton's very own DJ Say Dallas. The fireworks show will begin at 9:00 p.m.
On Friday, October 25, 2019 our homecoming festivities will culminate with the following events:
2:00 p.m. - Chilton I.S.D. Homecoming Parade
2:15 p.m. - Elementary Wagon Parade (HS Gymnasium)
2:30 p.m. - Community Pep Rally in the HS Gymnasium.
7:00 p.m. - Football versus Bremond
We look forward to seeing our Chilton ISD for these events as we celebrate our Pirate Legacy.